NeoPond Sealant Kit for Concrete/Wood Ponds - 5 Gallon (18.9L)
Regular price
$499.95
Regular price
Unit price
per
NeoPond Sealant Kit for Concrete/Wood Ponds - 5 Gallon (18.9L)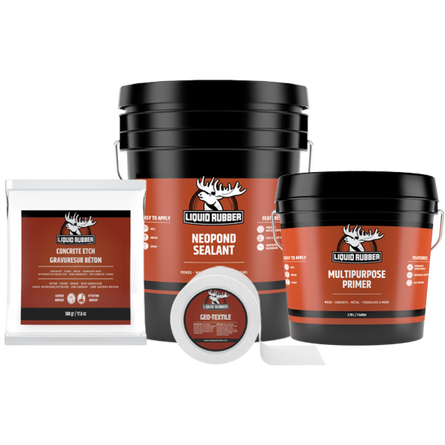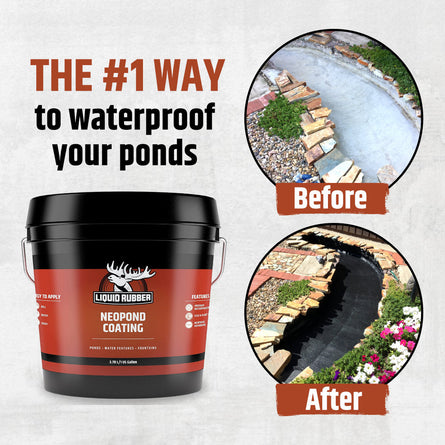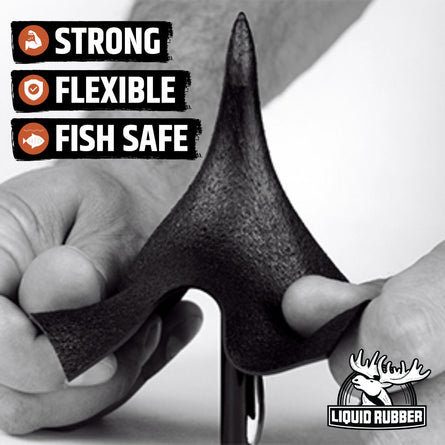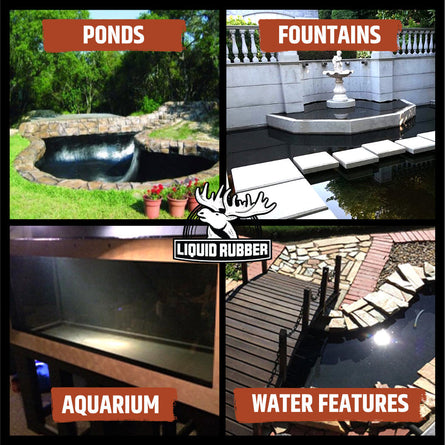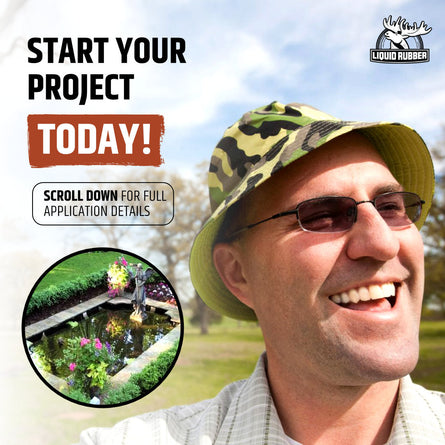 Product Details
Liquid Rubber NeoPond Sealant - Concrete/Wood Pond Kit comes with 5G NeoPond Sealant, Geo-Textile, Multi-Purpose Primer, and Concrete Etch to seal 200 sq ft of pond surface area.
Kit Contents:
1 - 5G pail of NeoPond Sealant
1- 1G Pail of Multi-Purpose Primer
1 - 500 G/17.6 oz Concrete Etch
1 - Roll of 4" x 160' Geo-Textile
Products that prove themselves
---
Popular Uses
Pond Sealant helps seal a variety of water features in your home. Here are some common Pond Sealant uses.
Ponds
Water Features
Fountains
Planter Boxes
---
Coverage
Liquid Rubber NeoPond Sealant - Concrete/Wood Kit comes with everything you need to seal 200 sq ft of pond surface area.
Liquid Rubber NeoPond - Apply minimum final thickness of 1 gallon per 40 sq ft (3.7 sq/m). It should require around 3-4 heavy coats to achieve a 30 mil. (0.75 mm) (DFT) membrane. 200 sq ft per 5G pail.
Liquid Rubber Multi-Purpose Primer - Apply a minimum final thickness of 1 gallon per 175 - 200 sq ft (18.58 SQ/M)
Liquid Rubber Concrete Etch - Approximately 15 - 22 m² / 160 - 240 ft² depending upon the porosity of the surface.
Liquid Rubber Geo-Textile - 160 Linear feet. Does not account for overlaps.
---
Documents
For Step-By-Step Guides Specific to Your Project
1
Make sure your surface is clean, dry, and free of dirt, silicone, loose paint, rust, oil, grease, coal tar, or other contaminants. Apply using a 3/8 (10mm) roller, brush or paint sprayer. Temperature should be above 10˚C/50˚F and without rain or dew in the forecast when applying.
2
Etch concrete prior to application.
3
Apply each coat in an alternate direction to the last coat to ensure even coverage. For extra adhesion, performance and longevity and to create a moisture vapor barrier, use 1 heavy coat of Liquid Rubber Multi-Purpose Primer or Liquid Rubber EPDM Primer. We recommend applying a test patch before full application.
4
Apply next coat when dry to the touch with nothing wet underneath and is uniform in color (typically 4-6 hours).
5
Curing time depends on humidity and temperature however typical cure time is 72 hours (3-5 days after last coat before filling/use). Do not allow to freeze until fully cured.
6
For best results remove existing paints/coatings and apply directly to the substrate. (some paints and coatings will not be compatible. Loose/flaky paint may be an indication that the existing paint/coating is not well bonded and therefore your Liquid Rubber solution may fail if applied over it instead of directly to the substrate. Oil based paints, enamels, epoxies, powder coats can be difficult to bond to. Contact your Liquid Rubber technical representative for further direction.) Avoid contact with solvents and solvent based cleaners, adhesives and paints. Do not combine black products with colored products.
7
Use Deck Cleaner on Wood. Use EPDM Primer for EPDM pond liner. Reinforce seams, joints, cracks... with Geo-Textile or Seam Tape.
8
Use Liquid Rubber Caulking for gaps, cracks and around penetrations.
9
Be sure to test the water for proper PH levels acceptable for your type of fish and adjust as necessary and to cycle the water to remove surfactants before adding fish.
Walking board for the mud
We just finish the job , and we going to try it in a few time
But it s make realy à good job on the polystyrène
Tips and Tricks
How to Seal a Pond
Learn how to prep and apply Neopond Sealant to prevent pond leaks.
Prep Your Space
Download Supply Checklist
Before you start your project, make sure you have everything you need.
Pond Sealing Supply Checklist
How to Fix a Leaking Pond
Learn how to fix a leaking pond using Neopond Sealant.
Read Blog