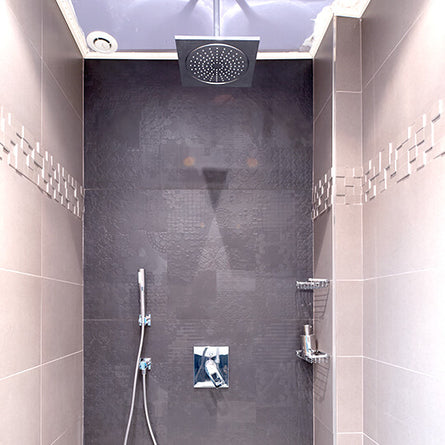 Shower Waterproofing
Time to Complete
48 hours
Difficulty Level
Beginner
Products Needed
2
Keeping moisture out to prevent wall damage is challenging within a shower. Foundation sealant helps you seal your shower to create a long-lasting membrane that acts as a barrier, so that your walls are protected.
Purchase Everything You Need For This Project
Not Sure How Much To Order?
Get Your Supplies Ready
A successful project starts with preparation. Make sure you have all the supplies and products you need with our supply checklist.

Download Supply Checklist
Clean Your Space
Ensure the surface is sound, clean and dry. Use Deck and Patio Cleaner to remove organic growth from wood and gypsum. Replace any damaged material and patch/fill cracks joints/voids bigger than 1/8'. Use Liquid Rubber Sealant & Adhesive to seal gaps, cracks and around penetrations. Concrete: Must be troweled or ground smooth, fully cured and free from contaminants. Gypsum: Must be troweled or sanded smooth.
Contain The Mess
Set out a tarp or large piece of cardboard to keep all tools and containers on when you are not using them. Have a pail of soap and water, rags and mineral spirits ready in case there is a spill. If a spill happens, use rags to soak it up, cleaning immediately with soap and water. If it is dried, used a razor/scraper to remove. Use mineral spirits to weaken the material and remove with a wire brush or grinder.
*Note: Use mineral spirits sparingly.
Step-By-Step Project Walkthrough
Tip From the Pros:
Do not combine black products with colored products.

1
Prepare Your Space and Gather Your Materials
Make sure surfaces are clean, dry and troweled or sanded smooth. Gather your products needed.
2
Detail Work
Bridge seams, cracks corners and transitions using the 3-course method of Geo-Textile and Foundation Sealant. Apply 6" wide coat of sealant and while still wet embed Geo-Textile fabric (fuzzy side down). Smooth out wrinkles and allow to set up for an hour before apply a second coat of Foundation sealant on top to fully saturate Geo-Textile. Allow to dry. Drains: Drains should have a clamping ring with open weep holes for thin-set application. Apply Foundation Sealant to the bottom of the flange. The drain should be fully supported, without movement, and even with the plane of the substrate. Apply Foundation Sealant around the drain. Embed GeoTextile fabric (fuzzy side down) into the coating around the drain while still wet, making sure it does not obstruct the drainage weep holes. Apply an additional coat and smooth. After curing, clamp the upper flange onto the membrane and tighten. Use Liquid Rubber Caulking around the flange prior to clamping the upper flange to the cured membrane.
Tip from the Pros:
IT IS ALWAYS A GOOD IDEA TO APPLY A SMALL TEST PATCH IN AN INCONSPICUOUS AREA TO ENSURE ADEQUATE ADHESION PRIOR TO FULL APPLICATION
3
Masking
Tape-off, block-off, or otherwise mask area's that are not to receive Foundation Sealant.
4
Apply Coating
Using a 3/8" (10mm) microfiber roller, apply 3-4 generous coats of Foundation Sealant to entire surface, taking care not to allow the material to drip or puddle. For edges, corners or around pipes, apply product with a Nylon/Polyester brush. It should require around 3-4 heavy coats to achieve a 40-60 mil. (1-1.5mm) (DFT) membrane, allowing 6-8 hours dry time between coats depending on temperature and relative humidity. You can recoat once the material is dry to the touch with nothing wet underneath and uniform in color. Apply each coat at a right angle to the prior coat, to ensure even coverage. In a well-ventilated area with airflow, allow 24-48 hours curing after the final coat before the application of modified thinset and tiles. The coating should dry to the touch with nothing wet underneath and be uniform in color before installation of thinset and tile.
5
Inspect and Protect
Inspect for pinholes, blisters, voids, thin spots or other defects. Repair as necessary.
6
Clean Up
Remove tape while still wet and close container to secure leftover product. If spillage occurs, soak up as much material as possible with rags. Clean immediately with soap and water. If spill is dried, scrape off as much as possible with a razor or scraper. Use mineral spirits to weaken product and an appropriate tool such as a wire brush or grinder to mechanically remove. If splashed on the skin immediately wash thoroughly with fresh water. If the product has dried on the skin massage the area with medical grade mineral oil, baby oil or edible oil, then wash with soap and water. If irritation persists seek medical attention.
NEED SOME HELP?
OUR TEAM OF EXPERTS ARE STANDING BY TO HELP MAKE SURE YOUR PROJECT IS A SUCCESS. CALL OR EMAIL US AT
1-855-592-1049
support@shopliquidrubber.com
The Possibilities Are Endless
Tips & Tricks
How to Create a Waterproof Shower Liner
View video instructions on how to create a waterproof shower liner.
Tips on Waterproofing a Shower
Learn all the tricks to properly waterproof a shower.
Read Blog