Polyurethane Deck Coating
Regular price
$89.95
Regular price
Unit price
per
Polyurethane Deck Coating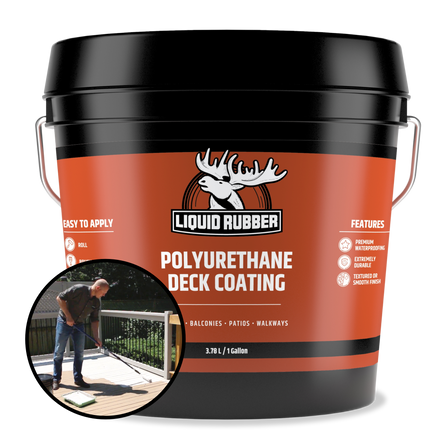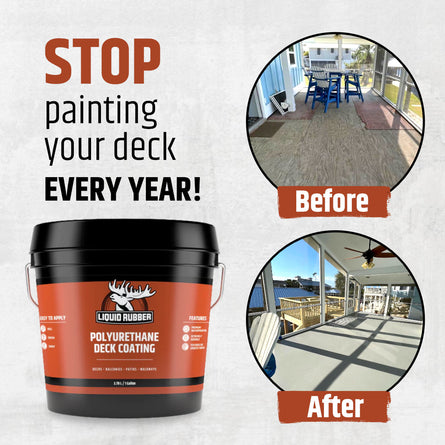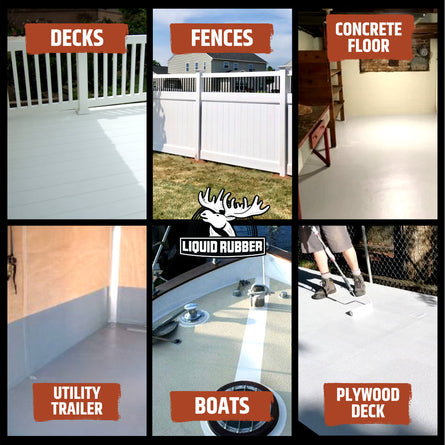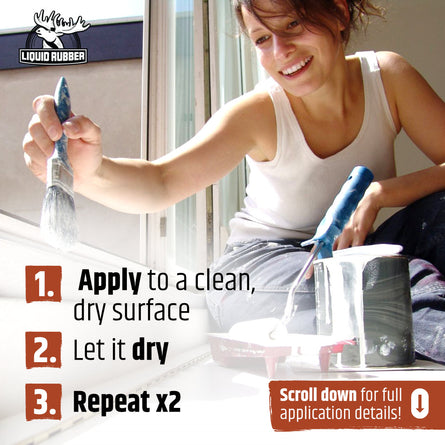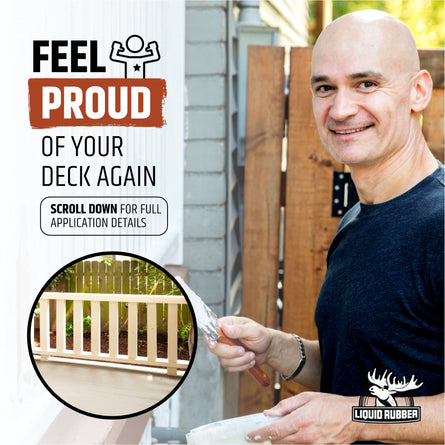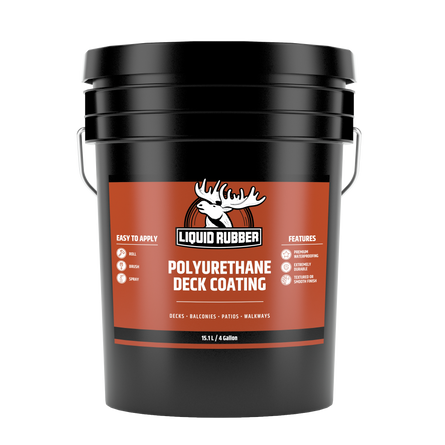 Product Details
Waterproof Deck Coating
Polyurethane Deck Coating is designed to be 10 times stronger than a traditional deck coating. It delivers a hard waterproof surface to keep your property in pristine condition by providing a durable protective layer. Protect your surfaces with Liquid Rubber Polyurethane Deck Coating and preserve your property for years to come.
Waterproof deck coatings offer better protection than regular paints and traffic coatings.
Products that prove themselves
---
Popular Uses
Polyurethane Deck Coating provides a durable protective layer to deck and dock surfaces. Here are other common uses for Polyurethane Deck Coating.
Decks and Docks
Concrete
Wood
Walkways
Fences
Baseboards
Plywood Surfaces
Indoor/Outdoor Floors
And More
---
Coverage
Apply minimum final thickness of 1 gallon per 50 sq ft (4.6 sq m). It should require around 3-4 heavy coats. High traffic areas and porous substrates require 1 gallon per 30 sq ft (2.8 sq m).
Not sure how much to order?
---
Documents
For Step-By-Step Guides Specific to Your Project
1
Prep And Clean The Surface
Make sure your surface is clean, dry, and free of dirt, silicone, loose paint, rust, oil, grease, coal tar, or other contaminants. Apply using a 3/8 (10mm) roller, brush or paint sprayer.
Concrete: Should be etched, power washed and fully dried. Wood: Mildew and organic growth must be removed using Deck and Patio Cleaner. Secure raised nail heads, deck screws and loose boards. Pre-fill imperfections such as screw holes, knots and splits in the wood with a high-quality wood filler. Replace damaged and rotting boards and remove loose splinters. For fiberglass or vinyl: Scuff the surface to remove all shine, clean with a mild soap and water, allow to dry completely and wipe with a white rag that has been dampened with acetone to condition the surface. Cracks, joints, voids, etc: (1/8" or larger) should be pre-filled with a suitable patching material such as a high-quality wood filler, concrete patch material or Liquid Rubber caulking. Installing Liquid Rubber Caulking without reinforcing with Geo-Textile has a more seamless look but comes with a risk of cracking at the joint, crack, corner, etc. over extended periods of time and you should be prepared to touch up these areas in the future if necessary.
2
Masking
Tape-off, block off or otherwise mask areas that are not to receive coating. Remove masking while coating is still wet.
3
Detail Work
Bridge seams, flashing, cracks, joints, around penetrations, etc. using Geo-Textile applied via the 3-course method (Multi-Purpose Primer – Geo-Textile – Multi-Purpose Primer). Apply a 6" wide coat of Multi-Purpose Primer across the seam and while still wet, embed the Geo-Textile. Smooth out wrinkles and apply a second coat of Multi-Purpose Primer to fully saturate and encapsulate the Geo-Textile. Allow the primer to dry 1-2 hours before coating. As an alternative method: You can caulk the joints with Liquid Rubber Sealant & Adhesive instead of reinforcing with Geo-Textile, however there is greater risk of cracking at the joint without Geo-Textile.
Note: Geo-Textile is a structural element to help prevent cracking and will remain somewhat visible.
4
Prime
Using a 3/8'' (10mm) microfiber roller, apply Multi-Purpose Primer to the entire surface. For edges, corners and between wood boards, apply using a nylon/ polyester brush. Allow the primer to dry until dry to the touch (approx.1-2 hours).
5
Apply Coating
Apply Polyurethane Deck Coating or Cool Foot Deck Coating in multiple coats, allowing approximately 4-6 hours drying time between coats. Be sure to seal around posts. High humidity will extend curing times. You can re-coat when the material is dry to the touch with nothing wet underneath and is uniform in color.
Avoid hot, direct, intense sun when applying. You should also avoid contact with solvents and solvent based cleaners, adhesives and paints. Do not allow the product to freeze or apply in wet conditions.
Tips From The Pros:
BRUSH PRODUCTS BETWEEN DECK BOARDS.
6
Inspect and Protect
Inspect for pinholes, blisters, voids, thin spots or other defects. Repair as necessary. Allow 72 hours after last coat for light foot traffic. Allow 5-7 days after last coat before placing furniture on the coating.
7
Clean Up
Remove tape while coating is wet and close container to secure leftover product. If spillage occurs, soak up as much material as possible with rags. Clean immediately with soap and water. If spill is dried, scrape off as much as possible with a razor or scraper. Use mineral spirits to weaken product and an appropriate tool such as a wire brush or grinder to mechanically remove. If splashed on the skin immediately wash thoroughly with fresh water. If the product has dried on the skin massage the area with medical grade mineral oil, baby oil or edible oil, then wash with soap and water. If irritation persists seek medical attention.
Need Some Help?
OUR TEAM OF EXPERTS ARE STANDING BY TO HELP MAKE SURE YOUR PROJECT IS A SUCCESS. CALL OR EMAIL US AT 1-855-592-1049 support@shopliquidrubber.com
first timer
Started at noon, after deck dried. Put 2 coats each day. Cured at 80F within 2 hours Looks great. Check with me next June.
Still waiting
I received two of the four gallon buckets I ordered. The problem is that I ordered three buckets. I can't believe you stock is so low that you couldn't fill my intire order. Your product seems to be fine but your customer service needs a lot of improvement.
Hello Mr Gipner, the tracking information shows there has been no movement on that item since the 13th of September, so it has more than likely been lost or damaged in transit. I have requested a replacement order for you and we sincerely apologize for the delay and inconvenience.
Great product line of waterproof Deck coatings
I have used many coatings over the years, but this is the first one that I have been truly impressed with the workability of it to apply as well as the durability of it as a traffic coat. I first ordered the product 4 years ago and have been using it happily since then on a number of applications that have shown how good a product that it is.
Colors are way off.
Colors dont match the website (I even have a color corrected monitor) and they dont even match the bucket lids. I have 5 buckets of "grey" that is actually bright shiny silver. Total waste of money!
Hey Mr Cain,
Someone from our technical support team will reach out to you shortly to help correct the issue.
Deck coating work great on my hot tub cover!
I used Liquid Rubber's polyurethane deck coating on my vinyl, hot tub cover that was cracked and slowly deteriorating. It did a great job of sealing all of the minor cracks and provided a solid surface. That seems to repel the rain very well and I expect the UV rays too.
Tips And Tricks
How to Apply Coatings to a Plywood Deck
Learn how to prep a plywood deck using Multi-Purpose Primer.
Download Supply Checklist
Before you start your project, make sure you have everything you need.
Deck and Dock Supply Checklist
How to Paint Your Deck
Learn how to paint and protect your deck using Polyurethane Deck Coating.
Read Blog