RV Roof Coating
Regular price
$89.95
Regular price
Unit price
per
RV Roof Coating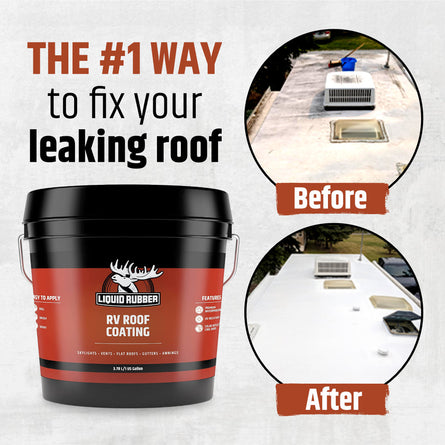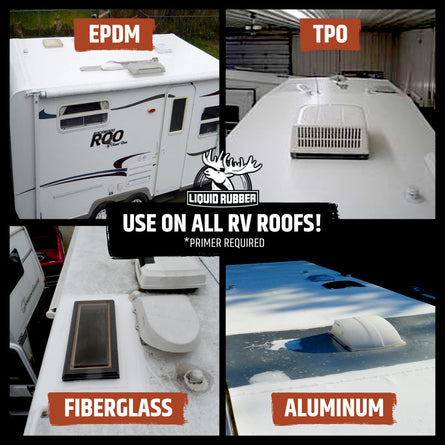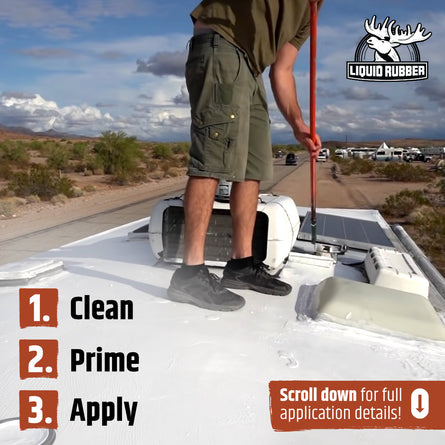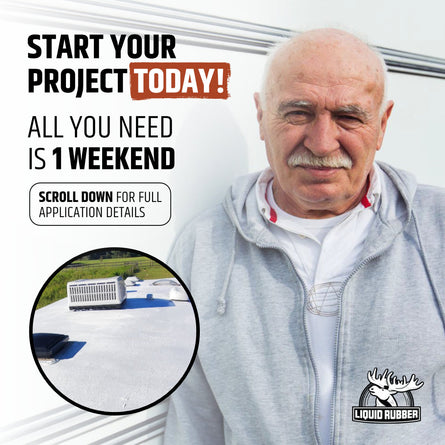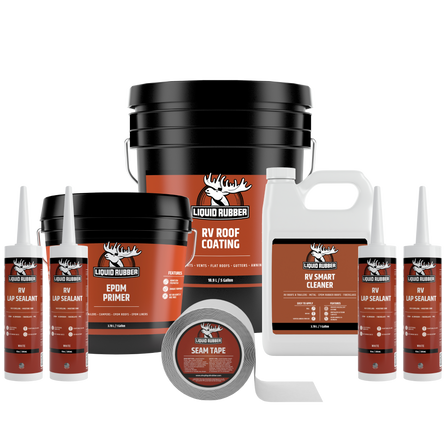 Product Details
RV Roof Coating:
Liquid Rubber RV Roof Coating is an environmentally friendly coating that keeps your RV free from leaks. The RV Roof Sealant cures into a waterproof membrane, giving your RV roof the armor it needs to deliver you and your family safely to and from your destination.
The best kind of leak is the one you prevent from ever happening.
Products that prove themselves
---
Popular Uses
RV/Mobile Home Roofs
Trailers/Campers
Toy Haulers
EPDM/TPO Roofs
Concrete, Metal
PVC, Fiberglass
---
Coverage
Apply a minimum final thickness of 1 gallon per 50 sq ft (4.7 sq/m). It should require around 3-4 heavy coats. 5 gallons will cover up to a 30-foot RV. Use all recommended material.
Not sure how much to order?
---
Documents
For Step-By-Step Guides Specific to Your Project
1
Identify the roof
Fiberglass, Wood, and Metal are easy to spot, but here is how to identify your sheet membrane roofs. (If you are unsure as to which roofing material you have, it is best to call the manufacturer to verify. For EPDM - use Liquid Rubber EPDM Primer. For most other substrates, use Liquid Rubber Multi-Purpose Primer. We do not have a primer for TPO at this time.)
TPO Typically, white in color, is usually shiny and has a plastic feel with an "orange peel" like texture. Do not apply Liquid Rubber products over a TPO surface without a TPO Primer.
EPDM Colors can vary from black to gray to white. Almost always has a smooth rubbery feel. It is also one of the thinnest materials (going down to .41 mm).
PVC Typically found in white, but can come in gray, tan, and cream colors. PVC can easily be mistaken for TPO.
2
Inspect your roof
Inspect caulking (lap sealant) and seams for shrinkage. Remove unbonded/damaged or silicone lap sealant and ensure the joint is clean and dry before applying Liquid Rubber Seam Tape or Liquid Rubber RV Lap Sealant. Look for physical damage such as tears, holes, and dents where water pools. Inspect your interior for water damage. If you have fiberglass check for cracks. (Use a fiberglass patch kit to repair prior to waterproofing).
3
Clean the surface
Use Liquid Rubber RV Smart Cleaner to remove surface impurities. The RV Smart Cleaner is ready to use. Do not dilute. Sweep the surface clean. Wet surface lightly with a garden hose. Apply Liquid Rubber RV Smart Cleaner generously using a brush, roller, or spray equipment. Allow the solution to stand for 5-10 minutes. Work into the surface using a stiff bristle brush. Scrub a small section first to determine if the area is cleaned. For stubborn stains, repeat application. Rinse the sides and surface of your RV using a high-pressure spray nozzle & garden hose or power washer and allow it to fully dry. (Don't get it on windows.)
4
Masking
Tape-off, block off or otherwise mask areas that are not to receive coating. Remove masking while coating is still wet.
5
Details (Tape or Lap Sealant)
Detail areas may include vents, skylights, etc. Pre-cut Liquid Rubber Seam Tape to desired length and fit. Remove plastic backing before applying (be careful not to stretch the seam tape when removing the backing). Apply Seam Tape to all seams at perimeter and protrusions (vents, skylights, etc.) Use pressure to activate adhesive leaving no wrinkles or fish-mouths. Overlap separate pieces of Seam Tape by at least 1 inch.
6
Details (Cutting in)
For EPDM or PVC membranes, wipe down the surface with a clean white rag that has been dampened with acetone right before you prime. This will condition the surface to receive the primer. Use Liquid Rubber Multi-Purpose Primer for PVC, aluminum, and fiberglass roofs. Start by cutting in the detail areas. When dry (tacky is OK), apply a heavy detail coat of your selected Liquid Rubber Coating over the Seam Tape and cut-in areas (leaving a couple of inches of primer exposed to lap onto). Allow to dry.
7
Application
Work in manageable sections. Apply the Liquid Rubber EPDM Primer to one side of the RV (leaving the other side uncoated so that you can walk and work on it. ) Allow the Liquid Rubber EPDM Primer to dry for 1-2 hours. Apply the Liquid Rubber RV Roof Coating (or other selected Liquid Rubber sealant) over the Liquid Rubber EPDM Primer, leaving 4-6 inches of the primer exposed so that you will be able to overlap it when you begin the second side. (You can apply to the entire roof when using Liquid Rubber Multi-Purpose Primer). Allow the Liquid Rubber RV Roof Coating to dry enough to walk on and repeat the process for the second side. Apply as many coats of the selected Liquid Rubber Coating using a brush or (3/8) 10mm roller until you use up the required amount. Allow to dry, approximately 6-8 hours between coats or until dry to the touch with nothing wet underneath.
Tips from the pros: Apply each new coat at a right angle to the previous coat to ensure even thickness.
8
Inspect and protect
Inspect for pinholes, blisters, voids, thin spots, or other defects. Repair as necessary. Allow your coating to dry 48-72 hours. Low temperatures and high humidity will extend cure times.
9
Clean up
Remove tape while coating is wet and close container to secure leftover product. If spillage occurs, soak up as much material as possible with rags. Clean immediately with soap and water. If spill is dried, scrape off as much as possible with a razor or scraper. Use mineral spirits to weaken product and an appropriate tool such as a wire brush or grinder to mechanically remove. If splashed on the skin immediately wash thoroughly with fresh water. If the product has dried on the skin massage the area with medical grade mineral oil, baby oil or edible oil, then wash with soap and water. If irritation persists, seek medical attention.
Motorhome roof sealer
Does exactly what it says but you need follow instructions fully and don't try to cut corners ie use the right products for your task at hand
Preparation is important
Thoroughly examine the roof of the RV. Remove, repair or replace any exhaust vent, caps and skylights requiring service. Examine existing seam tape laps for lifting and leakage. Scrub and clean all surface area's.
Sand off any loose materials. Do not use seam tape to hide damaged area's. Acetone all area's of oil, grease and moisture entrapment. Preparation is 75% of the job.
Good product
Easy product to work with, I would recommend this product to friends and family. The only reason I gave this product a 4 star not a five, is because I just finished putting the product on the roof and have not had a chance to see how it works in the elements.
Tips And Tricks
Learn how to prep and apply RV Roof Coating.
Download Supply Checklist
Before you start your project, make sure you have everything you need.
RV Roof Supply Checklist
RV Roof Coating Application Tips
Learn some application tips and how to apply RV Roof Coating.
Read Blog