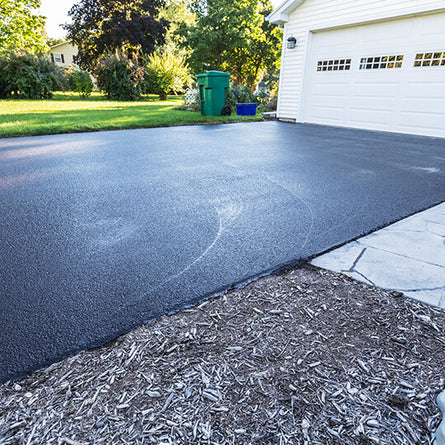 Driveway Sealing
Time To Complete
48 hours
Difficulty Level
Beginner
Products Needed
2-3
Sealing your driveway protects it against wear and tear that can occur over time. Liquid Rubber Driveway Restore Sealer lasts up to five years, helping your driveway maintain value over time. Extend your driveway's life with this easy DIY solution.
Purchase everything you need for this project
Not sure how much to order?
Get Your Supplies Ready
A successful project starts with preparation. Make sure you have all the supplies and products you need with our supply checklist
Download Checklist
Clean Your Space
A thorough inspection of the driveway must be performed to ensure the surface is sound before continuing. Repair as necessary. Liquid Rubber products must be installed on a clean, dry, and structurally sound surface that is free of dirt, debris, oil, grease, coal tar, mastics, silicone, other coatings and other contaminants. Pressure washing is recommended to provide a clean bonding surface. Use Deck and Patio Cleaner to remove contaminants prior to power washing.
Contain The Mess
Set out a tarp or large piece of cardboard to keep all tools and containers on when you are not using them. Have a pail of soap and water, rags and mineral spirits ready in case there is a spill. If a spill happens, use rags to soak it up, cleaning immediately with soap and water. If it is dried, use a razor/scraper to remove. Use mineral spirits to weaken the material and remove with a wire brush or grinder.
*Note: Use mineral spirits sparingly.
Step-By-Step Project Walkthrough
Tip from the pros:
Apply each coat in an alternate direction to the last coat to ensure even coverage.
1
Prep and Clean the Surface
Make sure you have a dry surface that is free of dirt, loose paint, rust, oil, grease, coal tar, silicone, or other contaminants. Apply using an 18" foam squeegee or roller (use a 6-12" brush for edges). Apply when temperature is above 10ºC/50°F and rising and avoid direct sunlight. Make sure what you're coating is at least 5 degrees above the dew point of the environment you are coating in.
2
Detail Work
For cracks over 2 mm (1/8"), pitting, spalling, and small potholes, use an appropriate patching material. Fill all voids or cracks under 2 mm (1/8") with Driveway Restore Sealant using a brush. Coat the edges of the driveway starting on the outside and then inward 6" to 12" with a brush to ensure a clean look. Allow to fully dry.
3
Apply Coating
Start applying the Driveway Restore Sealant to the entire surface in 2-3 coats as described below. Apply in 50F/10C and rising. Avoid applying if rain is expected within 24 hours. Pour a thick line from one side of the driveway to the other and pull the coating towards you maintaining an even coat using an 18" foam squeegee or large push broom. Wait 12 hours, or until dry, and apply the second coat. Before applying the final coat, inspect for blisters, pinholes, light/thin areas, etc, and repair as necessary. Apply a minimum final thickness of 1 gallon per 50 sq ft (4.65 sq/m). It should require around 2-3 coats. Use up all required material.
Tip From the Pros:
Apply final coat in the direction of slope for positive drainage
4
Inspect and Protect
After the final coating has dried sufficiently enough to walk on and not cause damage, inspect the area for uniformity of membrane thickness and coverage. Ensure at least 48 hours (or until dry to the touch) of dry weather before allowing vehicle traffic.
5
Clean Up
Remove tape while coating is still wet and close container to secure leftover product. If spillage occurs, soak up as much material as possible with rags. Clean immediately with soap and water. If spill is dried, scrape off as much as possible with a razor or scraper. Use mineral spirits to weaken product and an appropriate tool such as a wire brush or grinder to mechanically remove. If splashed on the skin immediately wash thoroughly with fresh water. If the product has dried on the skin massage the area with medical grade mineral oil, baby oil or edible oil, then wash with soap and water. If irritation persists seek medical attention.
Need some help?
Our team of experts are standing by to help make sure your project is a success. Call us at
1-855-592-1049
support@shopliquidrubber.com
The Possibilities Are Endless
Tips & Tricks
How to Restore an Asphalt Driveway
View instructions on how to restore and protect an asphalt driveway.