Deck and Patio Cleaner
Regular price
$34.95
Regular price
Unit price
per
Deck and Patio Cleaner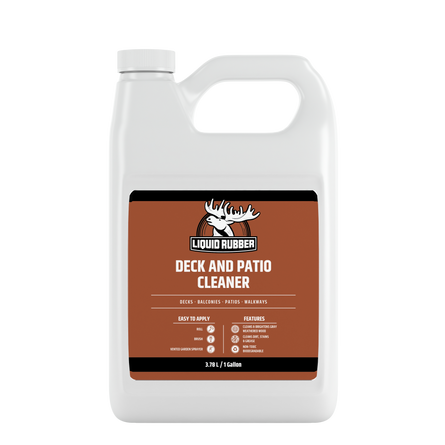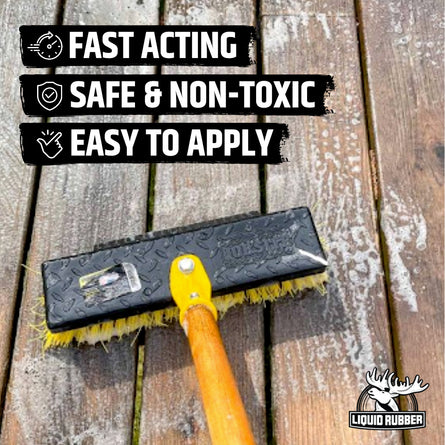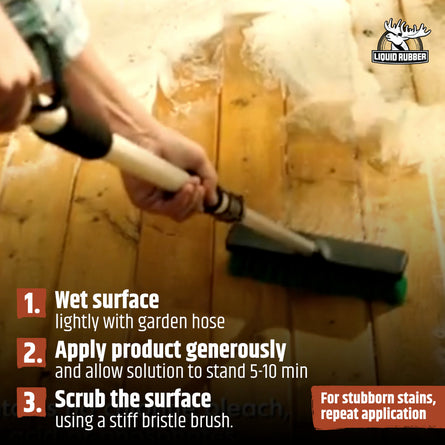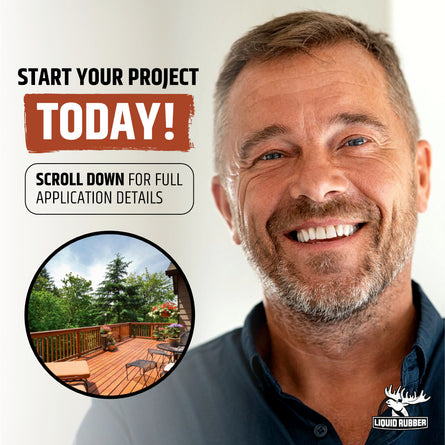 Product Details
Deck & Patio Cleaning Solution
Liquid Rubber Deck & Patio Cleaner is a safe, fast-acting cleaner for cleaning and brightening gray, weathered exterior wood and concrete surfaces. Can be used on decks, siding, outdoor furniture and fences. Liquid Rubber Deck & Patio Cleaner is an organic, non-corrosive acid salt and other naturally occurring ingredients that have been formulated to replace corrosive and hazardous cleaning products. Liquid Rubber Deck & Patio Cleaner removes dirt, light surface mildew and gray fibers from weathered wood. Will not harm plants or shrubs. This non-toxic biodegradable formula does not contain VOC's, acid, chlorine or bleach.
How can a deck cleaning solution possibly be so safe and yet clean so well!
Products that prove themselves
---
Popular Uses
Deck and Patio Cleaner removes contaminants from a variety of materials. Here are some common uses for Deck and Patio Cleaner.
Wood
Concrete
Brick
Fiberglass
Metal
And More
---
Coverage
Approximately 200 sq.ft. (18 sq.m.) - 400 sq.ft. (37 sq.m.) per 1G (3.78L).
Not sure how much to order?
---
Documents
For Step-By-Step Guides Specific to Your Project
1
Ready to use. Do not dilute. Wet surface lightly with garden hose.
2
Apply product generously using brush, roller or larger vented garden sprayer. Allow solution to stand 5-10 minutes without drying.
3
Work into the surface using a stiff bristle brush. Scrub a small section first to determine if area is cleaned.
4
For best results, rinse thoroughly using a pressure washer.
5
For stubborn stains, repeat application.
Worked as intended good product
long wait for cleaner
Sometimes things happen, sometimes it's the fault of the customer, sometimes it's the company and sometimes it's the delivery system. Liquid Rubber promptly shipped my purchase but the delivery company noticed one of the packages was damaged so they sent it back and Liquid Rubber again promptly send a replacement and kept me informed every step. . No hassle, all I needed was some patients. Two thumbs up , Thanks Joy
Steve
Delay
I haven't been able to apply the product yet due to rain!
pas C)vident
J'ai rC)ussi C mettre 3 couches parce que j'ai eu 3 jours de soleil la semaine passC) mais il me reste beaucoup de produits C'a l'air trC(s mince et lC j'attend d'autre jour de beau temp pour faire d'autres couche.
Tips And Tricks
How to Paint Your Deck
Learn how to prep and apply paint to your deck.
Read Blog
Download Supply Checklist
Before you start your project, make sure you have everything you need.
Deck and Dock Supply Checklist
How to Keep Your Deck Cool
Learn how to prep your deck for Cool Foot Deck & Dock Coating using Deck and Patio Cleaner.
Read Blog