Driveway Restore Asphalt Sealant Kit - 5 Gallon (18.9L)
Regular price
$199.95
Regular price
Unit price
per
Driveway Restore Asphalt Sealant Kit - 5 Gallon (18.9L)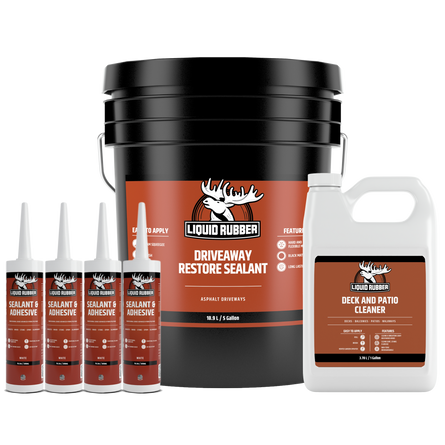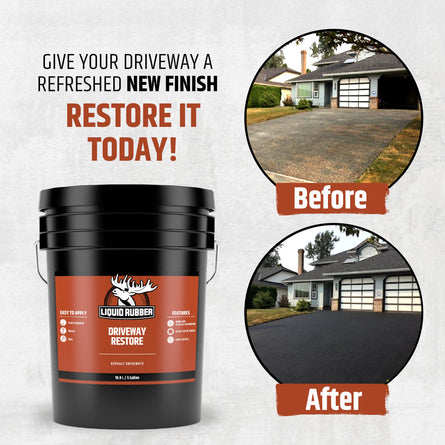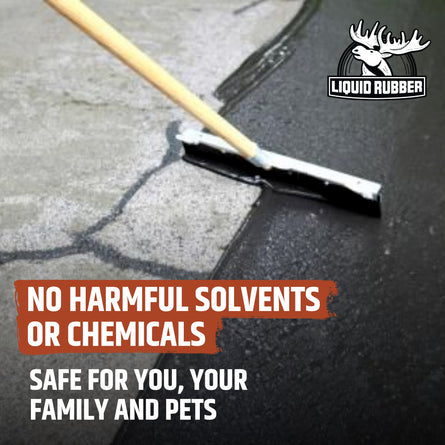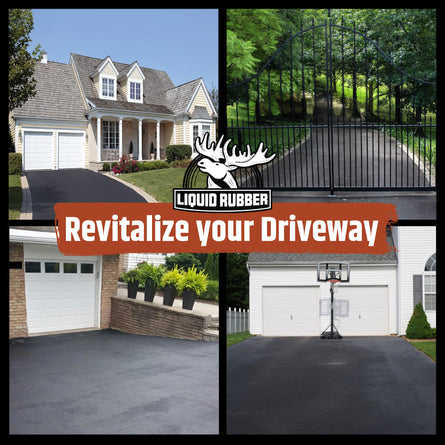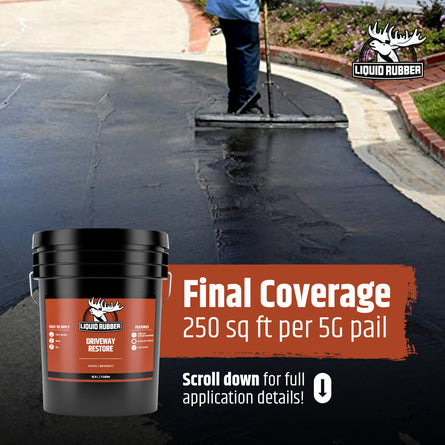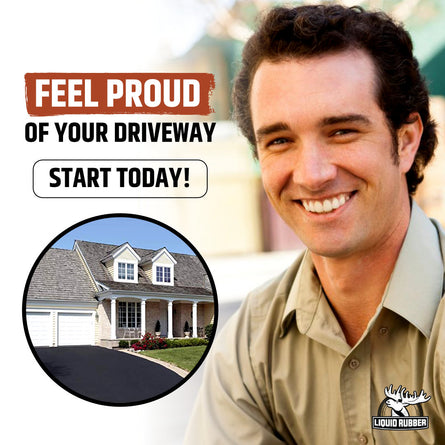 Product Details
Liquid Rubber Driveway Restore Kit comes with 5G Driveway Restore, caulking sealant and cleaner to restore and protect up to 250 sq ft asphalt driveway.
Kit Contents:
1 - 5G pail of Driveway Restore
1 - 1G Pail of Deck and Patio Cleaner
4 - 10oz tubes of White Caulking Sealant
Products that prove themselves
---
Popular Uses
Driveway Restore targets repair, restoration and protection of asphalt. Here are common uses of Driveway Restore.
---
Coverage
Driveway Restore - apply minimum final thickness of 1 gallon per 50 sq ft (4.65 sq/m). It should require around 2-3 coats.
Deck and Patio Cleaner - Approximately 200 sq.ft. (18 sq.m.) - 400 sq.ft. (37 sq.m.) per 1G (3.78L).
Liquid Rubber Sealant & Adhesive - Approximately 24 linear feet at ¼" diameter bead.
---
Documents
For Step-By-Step Guides Specific to Your Project
1
Make sure you have a dry surface that is free of dirt, loose paint, rust, oil, grease, coal tar, silicone, or other contaminants. Apply using an 18" foam squeegee or roller (use a 6-12" brush for edges). Apply when temperature is above 10ºC/50°F and rising and avoid direct sunlight. Make sure what you're coating is at least 5 degrees above the dew point of the environment you are coating in.
2
For best results remove existing paints/coatings and apply directly to the substrate. (Some coatings will not be compatible. Loose/peeling coatings may be an indication that the existing coating is not well bonded and therefore your Liquid Rubber solution may fail if applied over it instead of directly to the substrate. Contact your Liquid Rubber technical representative for further direction.)
3
Use Liquid Rubber Deck and Patio Cleaner to clean. Rinse thoroughly and allow to dry completely 24-48 hours.
4
Apply each coat in an alternate direction to the last coat to ensure even coverage. Apply next coat when dry to the touch with nothing wet underneath and is uniform in color typically 12 hours. Apply final coat in the direction of slope for positive drainage.
5
Do not allow to freeze or apply in wet conditions (including fog and dew) or if rain is forecasted within 24 hours. Avoid contact with solvents and solvent based cleaners, adhesives, and paints.
6
Curing time depends on temperature, humidity and airflow, however typically initial cure is within 48 hours or until completely dry and drivable and full cure is in 5-7 days.
7
Remove painters' tape/blocking while coating is still wet. Wrap brushes in plastic and refrigerate to use for next coat.
Tips And Tricks
How to Apply Driveway Restore
Learn how to prep and apply Driveway Restore to an asphalt driveway.
Download Supply Checklist
Before you start your project, make sure you have everything you need.
Asphalt Driveway Supply Checklist