Driveway Restore Asphalt Sealant
Regular price
$139.95
Regular price
Unit price
per
Driveway Restore Asphalt Sealant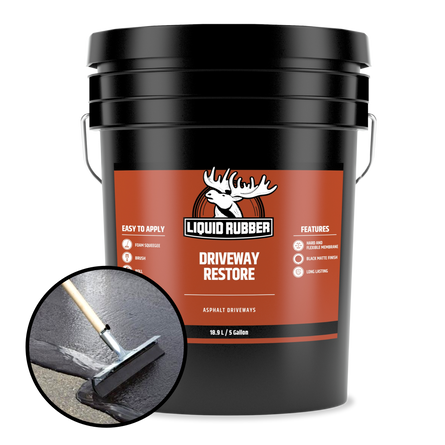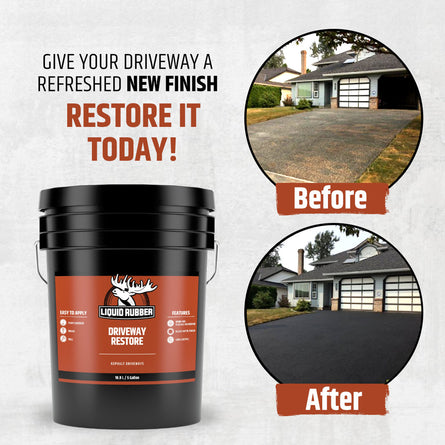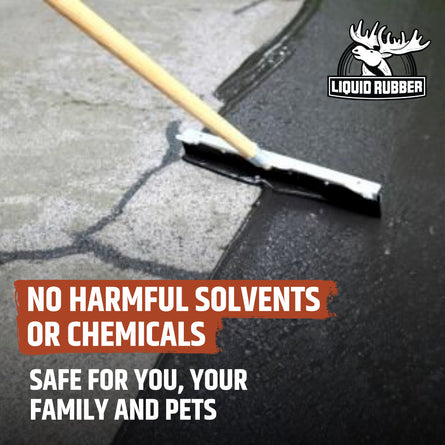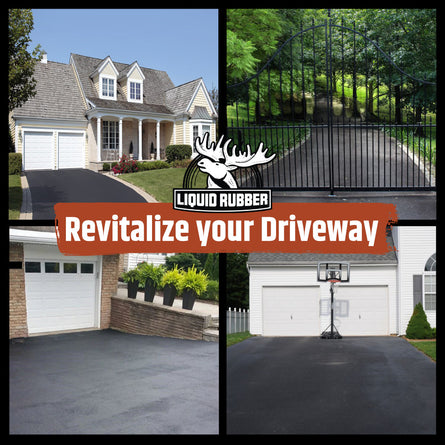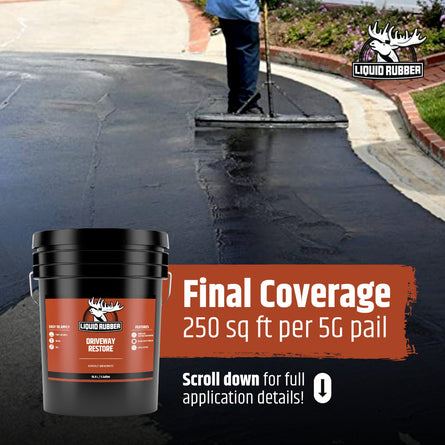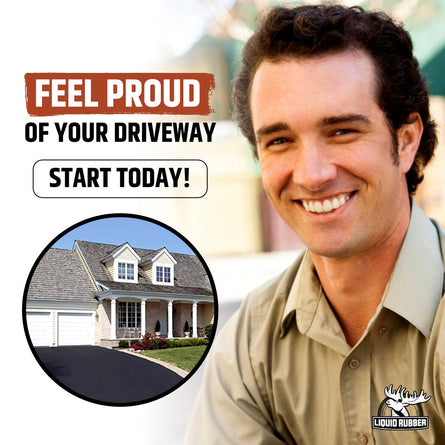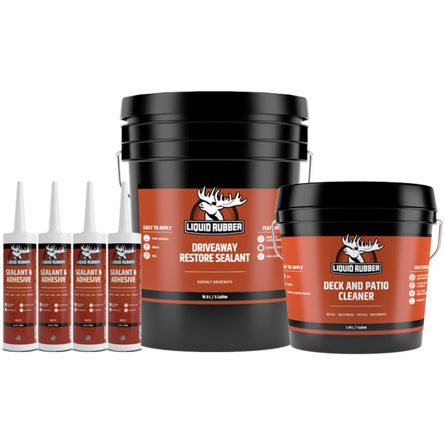 Product Details
Asphalt Driveway Sealer
Driveway Restore Sealer is an environmentally-safe, water-based sealer used to revitalize an aging, weathered, asphalt driveway. This driveway sealer withstands weathering and strong UV rays. Contains no solvents, is non-toxic, and VOC-free.
Revitalize your driveway with Liquid Rubber Driveway Restore (asphalt driveway sealer).
Products that prove themselves
---
Popular Uses
Driveway Restore targets repair, restoration and protection of asphalt. Here are common uses of Driveway Restore.
---
Coverage
Asphalt surface: apply minimum final thickness of 1 gallon per 50 sq ft (4.65 sq/m). It should require around 2-3 coats.
Not sure how much to order?
---
Documents
For Step-By-Step Guides Specific to Your Project
1
Prep and Clean the Surface
Make sure you have a dry surface that is free of dirt, loose paint, rust, oil, grease, coal tar, silicone, or other contaminants. Apply using an 18" foam squeegee or roller (use a 6-12" brush for edges). Apply when temperature is above 10ºC/50°F and rising and avoid direct sunlight. Make sure what you're coating is at least 5 degrees above the dew point of the environment you are coating in.
2
Detail Work
For cracks over 2 mm (1/8"), pitting, spalling, and small potholes, use an appropriate patching material. Fill all voids or cracks under 2 mm (1/8") with Driveway Restore Sealant using a brush. Coat the edges of the driveway starting on the outside and then inward 6" to 12" with a brush to ensure a clean look. Allow to fully dry.
3
Apply Coating
Start applying the Driveway Restore Sealant to the entire surface in 2-3 coats as described below. Apply in 50F/10C and rising. Avoid applying if rain is expected within 24 hours. Pour a thick line from one side of the driveway to the other and pull the coating towards you maintaining an even coat using an 18" foam squeegee or large push broom. Wait 12 hours, or until dry, and apply the second coat. Before applying the final coat, inspect for blisters, pinholes, light/thin areas, etc, and repair as necessary. Apply a minimum final thickness of 1 gallon per 50 sq ft (4.65 sq/m). It should require around 2-3 coats. Use up all required material.
Tip From the Pros:
Apply final coat in the direction of slope for positive drainage
4
Inspect and Protect
After the final coating has dried sufficiently enough to walk on and not cause damage, inspect the area for uniformity of membrane thickness and coverage. Ensure at least 48 hours (or until dry to the touch) of dry weather before allowing vehicle traffic.
5
Clean Up
Remove tape while coating is still wet and close container to secure leftover product. If spillage occurs, soak up as much material as possible with rags. Clean immediately with soap and water. If spill is dried, scrape off as much as possible with a razor or scraper. Use mineral spirits to weaken product and an appropriate tool such as a wire brush or grinder to mechanically remove. If splashed on the skin immediately wash thoroughly with fresh water. If the product has dried on the skin massage the area with medical grade mineral oil, baby oil or edible oil, then wash with soap and water. If irritation persists seek medical attention.
Need some help?
OUR TEAM OF EXPERTS ARE STANDING BY TO HELP MAKE SURE YOUR PROJECT IS A SUCCESS. CALL OR EMAIL US AT 1-855-592-1049 support@shopliquidrubber.com
Driveway Restore Asphalt Sealant
So far the liquid rubber is looking good. It's a good product, but because I have multiple layers of crap sealers of other companies I had not the best process of removing all byproducts. I can tell this stuff is way better just in the process of laying it down. I wish this product was sold at Home Depot or Lowe's. It's pricier but the end result is a driveway that has a good elastic water tight surface to shed snow and rain for years.
Liquid Rubber Driveway Restore Sealer
The shipment was only partially complete when it arrived but I contacted the company. The response was fast and the correction was addressed without hesitation or negotiations. I have not used the product yet but I am looking forward to viewing the end product. I have a large driveway and will have to order three more 5lb containers. I wish I could have ordered more the first time but was limited to two. Thank you to your customer service.
Tips And Tricks
How to Apply Driveway Restore
Learn how to prep and apply Driveway Restore to an asphalt driveway.
Download Supply Checklist
Before you start your project, make sure you have everything you need.
Asphalt Driveway Supply Checklist