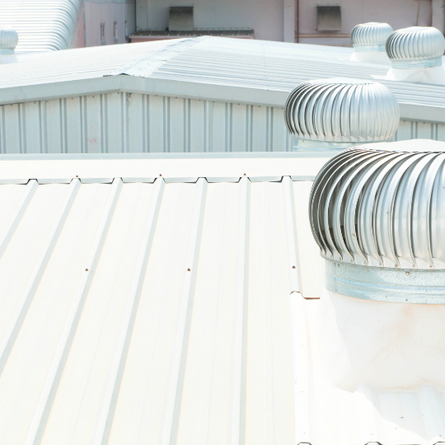 Metal Roof Repair
Time to Complete
48 hours
Difficulty Level
Beginner
Products Needed
2
Waterproofing your metal roof and metal roof repair is easy to do with a strong sealant. Liquid Rubber products provide an easy-to-apply waterproof membrane that keeps your metal roof moisture-tight.
Purchase Everything You Need For This Project
Not Sure How Much To Order
Get Your Supplies Ready
A successful project starts with preparation. Make sure you have all the supplies and products you need with our supply checklist.

Download Supply Checklist
Clean Your Space
Clean area of any loose caulking or silicone. Seal gaps, cracks, etc. with Liquid Rubber caulking (or equivalent). Power washing is recommended. Make sure area is thoroughly dried. Ensure fasteners are tight; replace if needed.
Contain The Mess
Keep all materials on a flat/level surface, on top of a tarp or piece of cardboard. Have a pail of soap and water, rags and mineral spirits ready in case there is a spill. If a spill happens, use rags to soak it up, cleaning immediately with soap and water. If it is dried, use a razor/scraper to remove. Use mineral spirits to weaken the material and remove with a wire brush or grinder.
Note: Use mineral spirits sparingly.
Step-By-Step Project Walkthrough
Tip From the Pros:
Do not combine colored and black products. Use one or the other.
1
Prepare Your Space and Gather
Make sure your surface is totally clean, dry and free of all matter.
2
Detail Work
Bridge joints, seams, vents, skylights etc., with Seam Tape. Apply MetalSafe Sealant, Color Sealant, or Waterproof Sealant to fasteners, tight seams and vents.
3
Masking
Using painter's tape, make sure your roof is properly taped to avoid seepage from the area to other parts of your structure.
4
Prime
For areas with rust, if your final coating is color, prime with a water based Rust Primer to prevent bleed through.
Tip From The Pros:
AVOID HOT, DIRECT SUNLIGHT DURING APPLICATION.
5
Apply Coating
Apply your selected Waterproof Sealant to entire roof. Apply the next heavy coat when the product is dry to the touch (4-8 hours) and nothing is wet underneath. Tacky is ok. Need curing time.
6
Clean Up
Remove tape while coating is still wet and close container to secure leftover product. If spillage occurs, soak up as much material as possible with rags. Clean immediately with soap and water. If spill is dried, scrape off as much as possible with a razor or scraper. Use mineral spirits to weaken product and an appropriate tool such as a wire brush or grinder to mechanically remove. If splashed on the skin immediately wash thoroughly with fresh water. If the product has dried on the skin massage the area with medical grade mineral oil, baby oil or edible oil, then wash with soap and water. If irritation persists seek medical attention.
NEED SOME HELP?
OUR TEAM OF EXPERTS ARE STANDING BY TO HELP MAKE SURE YOUR PROJECT IS A SUCCESS. CALL OR EMAIL US AT
1-855-592-1049
support@shopliquidrubber.com
The Possibilities Are Endless
Tips & Tricks
How to Repair a Metal Roof
View instructions on how to repair a metal roof with Liquid Rubber Coatings.
How to Waterproof a Metal Roof
Learn how to both repair and waterproof a metal roof with Liquid Rubber Coatings.
Read Blog