RV Roof Smart Cleaner
Regular price
$34.95
Regular price
Unit price
per
RV Roof Smart Cleaner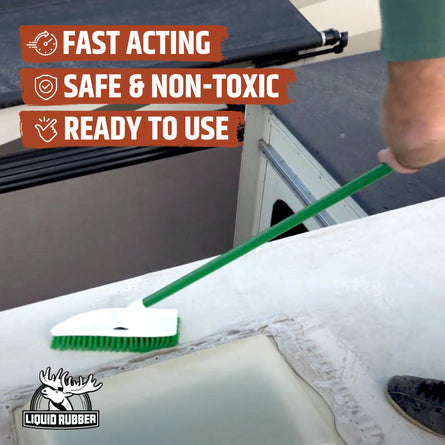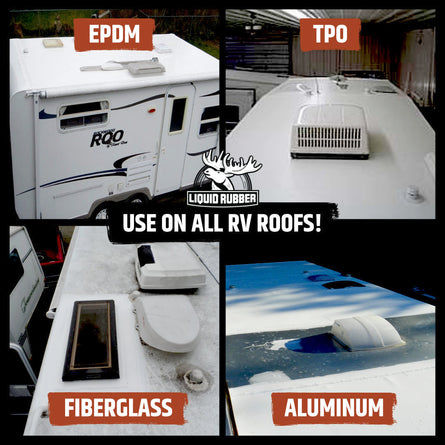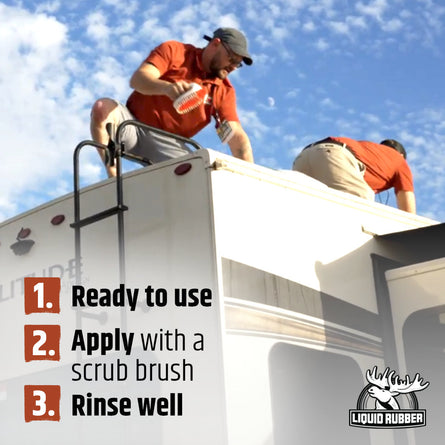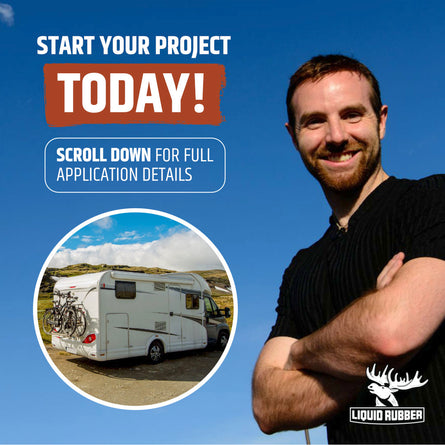 Product Details
RV Rubber Roof Cleaner and Conditioner
Liquid Rubber RV Smart Cleaner is a safe, fast-acting cleaner for cleaning RV roof surfaces. Can also be
used on siding, outdoor furniture and awnings. Liquid Rubber RV Smart Cleaner is an organic, non-corrosive
acid salt and other naturally occurring ingredients that have been formulated to replace corrosive and
hazardous cleaning products. Liquid Rubber RV Smart Cleaner removes dirt & stains, moss and light surface
mildew. Will not harm plants or shrubs. This non-toxic, biodegradable formula does not contain VOC's, acid,
chlorine or bleach.
Preparation is 90% of the job. Make sure its clean by using our RV rubber roof cleaner and conditioner, Liquid Rubber RV Smart Cleaner.
Products that prove themselves
---
Popular Uses
RV Smart Roof Cleaner eliminates dirt, grime and more on RV Roofs and other surfaces. Here are some common uses for RV Roof Smart Cleaner.
RV Roofs
EPDM Rubber Roofs
Fiberglass
Metal
Wood
Concrete
---
Coverage
Approximately 200 sq.ft. (18 sq.m.) - 400 sq.ft. (37 sq.m.)per 1G (3.78L).
---
Documents
For Step-By-Step Guides Specific to Your Project
1
Ready to use. Do not dilute. Wet surface lightly with garden hose.
2
Apply product generously using brush, roller or larger vented garden sprayer. Allow solution to stand 5-10 minutes without drying.
3
Work into the surface using a stiff bristle brush. Scrub a small section first to determine if area is cleaned.
4
For best results, rinse thoroughly using a pressure washer.
5
For stubborn stains, repeat application.
It was a good product. Seem to take off more dirt than just soap and water. It went farther than the suggested coverage.
Not sure
I will get Bach to you have not used it yet wether not good
Smart cleaner
It seems a good mixture and really helped take off a lot of the deteriorating rubber a twenty-two-year-old EPDM roof.
Tips and Tricks
How to Do An RV Roof Restoration
Learn how to prep and clean your RV Roof for a restoration.
Download Supply Checklist
Before you start your project, make sure you have everything you need.
RV Roof Supply Checklist
How to Prepare Your RV Roof for Sealant
Learn how to prepare your RV Roof for Liquid Rubber Sealant using RV Roof Smart Cleaner.
Read Blog