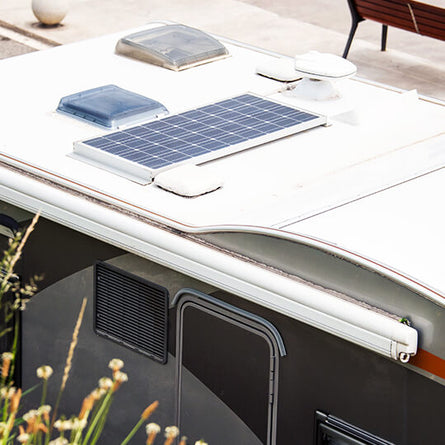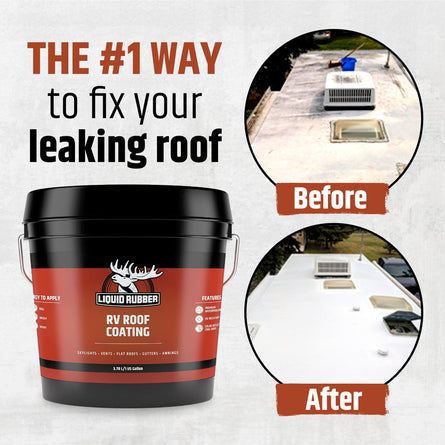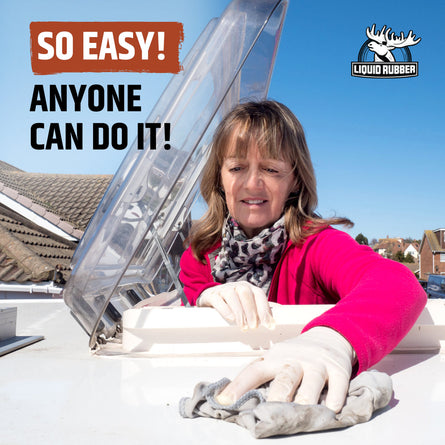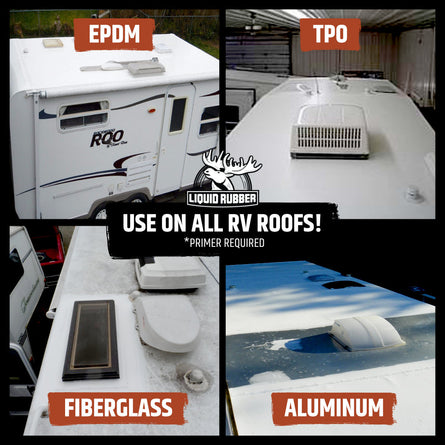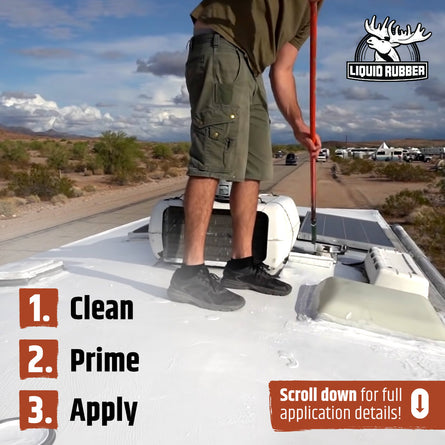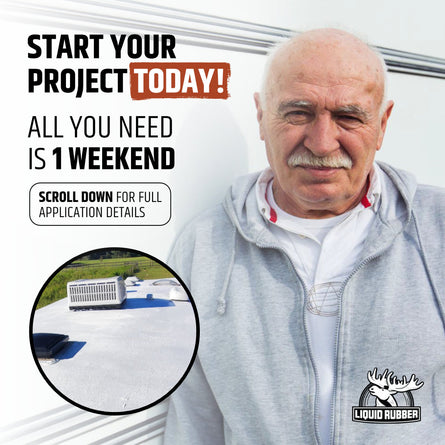 RV Roof Sealing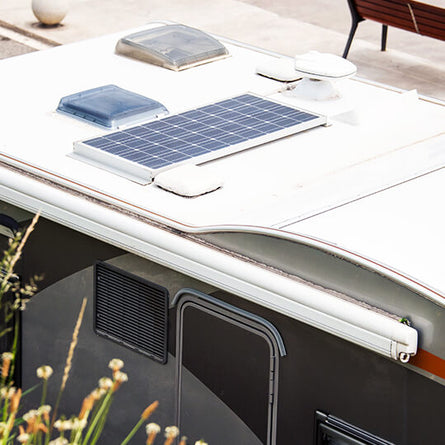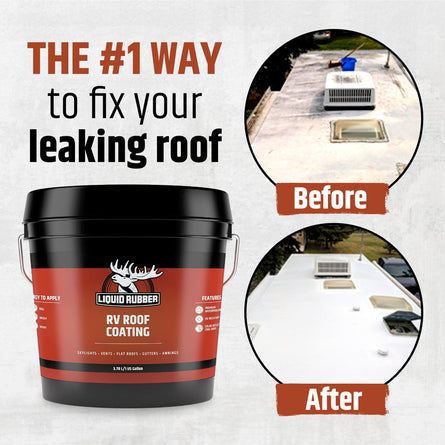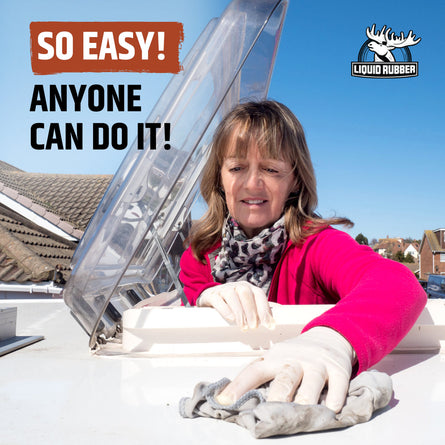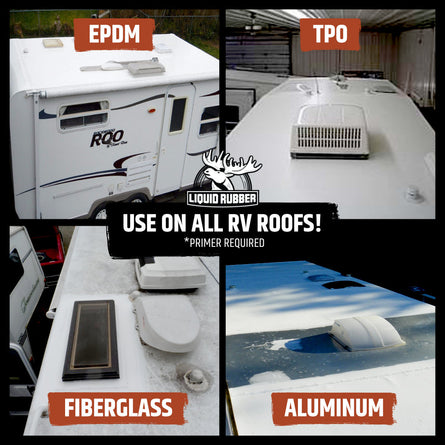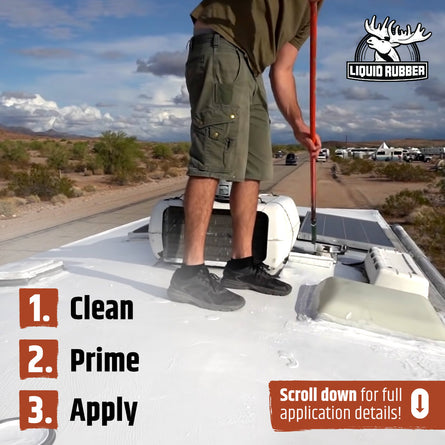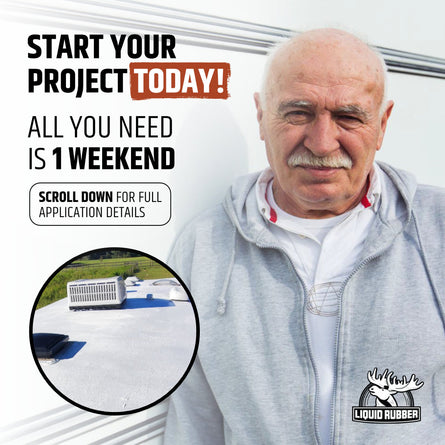 Time To Complete
48 hours
Difficulty Level
Beginner
Products Needed
5
An RV roof sealant is the economical choice for RV roof repairing and restoring. With RV Roof Coating, you can easily avoid common leaks and tears in vents, skylights, and roof material. The Solar Reflective coating also keeps your RV cool.
Purchase everything you need for this project
Not Sure How Much to Order
Get Your Supplies Ready
A successful project starts with preparation. Make sure you have all the supplies and products you need with our supply checklist.

Download Supply Checklist
Inspect Your Area
Inspect caulking (lap sealant) and seams for shrinkage. Remove cracked/damaged caulking and ensure the joint is clean and dry before applying Seam Tape. Remove silicone caulking. If you have damage in fiberglass material, use a fiberglass patch kit to repair prior to waterproofing. Tape damaged areas to avoid water seeping.
Clean Your Space
Use RV Smart Cleaner to remove surface contaminants. Do not dilute, and sweep surface clean. Wet surface lightly with a garden hose. Apply RV Smart Cleaner generously using a brush, roller, or spray equipment. Allow the solution to stand for 5-10 minutes. Work into the surface using a stiff bristle brush. Scrub a small section first to determine if area is cleaned. Rinse thoroughly using a pressure washer or garden hose. Allow to fully dry. For EPDM or PVC membranes and fiberglass roofs, wipe down the surface with a clean white rag that has been dampened with acetone. For fiberglass roofs, sand the surface thoroughly to remove any gloss and roughen the surface to promote adhesion. Clean well after sanding.
Contain The Mess
Always organize yourself and your work area to reduce the potential for spillage and other accidents. Set out a tarp or large piece of cardboard to keep containers and tools on, when not in use. Make sure you have a pail of soap and water and rags on hand so you are ready when an accident occurs. Soak up as much material as possible with rags. Clean immediately with soap and water. If dried, scrape off as much as you can. (with a razor/ scraper/etc.) Use an appropriate tool to mechanically remove (wire brush, grinder, etc.) Refer to the product Safety Data Sheet for personal protective equipment recommendations.
Step-By-Step Project Walkthrough
Tip From The Pros:
If your RV is still under warranty be sure to contact the manufacturer to ensure you do not void the warranty.
1
Prepare Your Space and Gather Your Materials
Make sure your RV roof is completely dry and thoroughly clean, with any damages repaired. Use RV Smart Cleaner to clean the surface. TPO, fiberglass and aluminum should be scuffed to remove all shine. (TPO needs to be aggressively scuffed).
2
Detail Work
SEAM TAPE: Detail areas may include vents, skylights, etc. Precut Seam Tape to desired length and fit. Remove plastic backing before applying (be careful not to stretch the seam tape when removing the backing). Apply Seam Tape to all seams at perimeter and protrusions (vents, skylights, etc. Use pressure to activate adhesive leaving no wrinkles or fish-mouths. Overlap separate pieces of Seam Tape by at least 1 inch. Prime detail roof areas (not the Seam Tape) with the EPDM primer. When dry (tacky when cured), apply a heavy detail coat of RV Roof Coating over the Seam Tape to encapsulate (at least 1 inch beyond the edges of the Seam Tape). Allow to dry.
LAP SEALANT: As an alternative to Seam Tape, use Liquid Rubber RV Lap Sealant to bridge and seal gaps and seams. While Liquid Rubber Seam Tape provides a superior bond and performance, Liquid Rubber RV Lap Sealant will bridge and seal at an affordable price.
Tip From the Pros:
FOR BEST RESULTS REMOVE EXISTING PAINTS/COATINGS AND APPLY DIRECTLY TO THE SUBSTRATE.
3
Masking
Tape-off, block off or otherwise mask areas that are not to receive coating. Pull painters tape while coating is still wet.
4
Prime
Use EPDM primer for EPDM and TPO. Use Multi-Purpose Primer for most other roof types.
(For EPDM, fiberglass and TPO, wipe the surface with a white rag that has been dampened with acetone right before priming. For aluminum, if rusted, remove rust from areas before priming with 1-2 coats of Multi-Purpose Primer or a Rust Primer to prevent bleed through.)
Tip From the Pros:
Apply each coat in an alternate direction to the last coat to ensure even coverage.
5
Apply Coating
Work in manageable sections. Apply the EPDM Primer to one side of the RV (leaving the other side uncoated so that you can walk and work on it ) Allow the EPDM Primer to dry for 1-2 hours (EPDM primer is very sticky, coat over as soon as possible to reduce debris sticking to it). Apply the RV Roof Coating using a brush, (3/8) 10mm roller or airless paint sprayer over the EPDM Primer, leaving 4-6 inches of the primer exposed. This will ensure you can overlap it when you begin the second side. Allow the RV Roof Coating to dry enough to walk on and repeat the process for the second side. Apply as many coats of RV Roof Coating until you use up required amount. Allow approximately 6-8 hours between coats or until dry to the touch with nothing wet underneath. Apply each new coat at a right angle to the previous coat to ensure even thickness.
6
Inspect and Protect
Inspect for pinholes, blisters, voids, thin spots or other defects. Repair as necessary.
7
Clean Up
Remove tape while coating is still wet and close container to secure leftover product. If spillage occurs, soak up as much material as possible with rags. Clean immediately with soap and water. If spill is dried, scrape off as much as possible with a razor or scraper. Use mineral spirits to weaken product and an appropriate tool such as a wire brush or grinder to mechanically remove. If splashed on the skin immediately wash thoroughly with fresh water. If the product has dried on the skin massage the area with medical grade mineral oil, baby oil or edible oil, then wash with soap and water. If irritation persists seek medical attention.
NEED SOME HELP?
OUR TEAM OF EXPERTS ARE STANDING BY TO HELP MAKE SURE YOUR PROJECT IS A SUCCESS. CALL OR EMAIL US AT
1-855-592-1049
support@shopliquidrubber.com
8
If your RV is still under warranty be sure to contact the manufacturer to ensure you do not void the warranty.
The Possibilities Are Endless
Tips & Tricks
How to Restore an RV Roof
View instructions on how to restore an RV roof.
How to Apply RV Roof Coating
View instructions on how to restore an RV roof.
Read Blog