RV Roof Coating Kit - 5 Gallon (18.9L) - Online Exclusive
Regular price
$549.95
Regular price
Unit price
per
RV Roof Coating Kit - 5 Gallon (18.9L) - Online Exclusive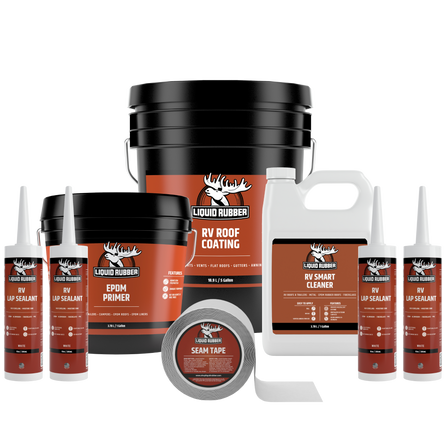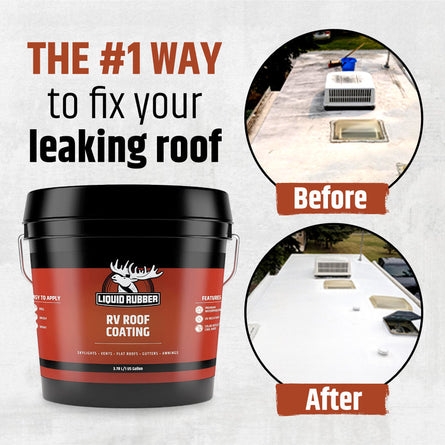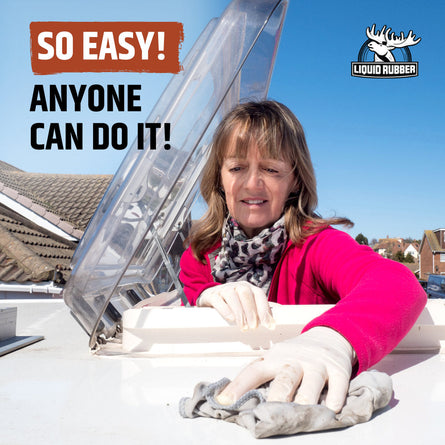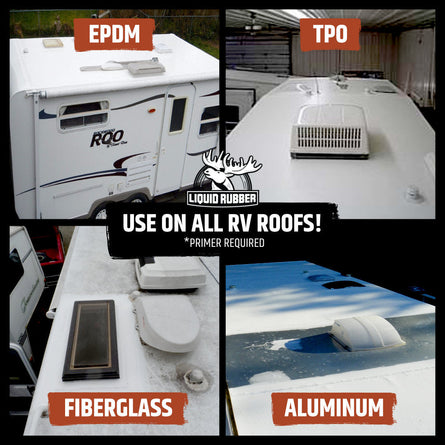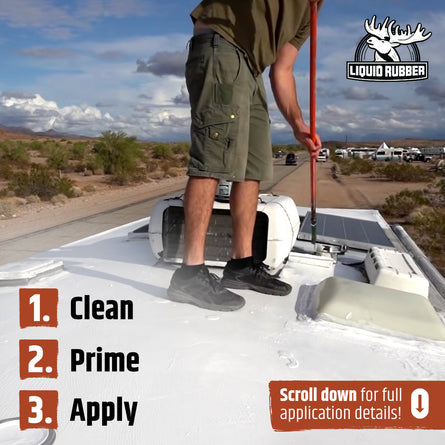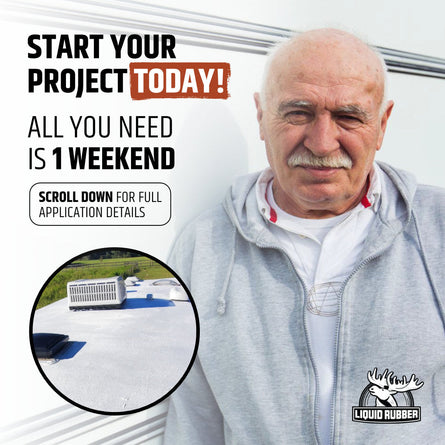 Product Details
Liquid Rubber RV Roof Coating Kit comes with Seam Tape and EPDM Primer and RV Smart Cleaner to waterproof and protect up to a 30' RV Roof.
Kit Contents:
1 - 5G pail of RV Roof Coating
1 - Roll of 4" x 50' Seam Tape
1 - 1G Pail of EPDM Primer
1 - 1G Pail of RV Smart Cleaner
4 x 10OZ (296ML) RV Lap Sealant Cartridges
Products that prove themselves
---
Popular Uses
RV Roof Coating helps repair and restore RV Roofs as well as other types of roofs and surfaces. Here are some common uses for RV Roof Coating.
RV Roofs
Mobile Homes
Campers
Trailers
Metal Roofs
Sheds
Gutters
Walls
Ceilings
And More
---
Coverage
Liquid Rubber RV Roof Coating - Apply a minimum final thickness of 1 gallon per 50 sq ft (4.65 sq/m). It should require around 2-3 heavy coats to achieve your final membrane. (1 x 5 gallon pail of RV Roof Coating will coat RV's up to 30 feet. Be sure to use up all material.)
Liquid Rubber EPDM Primer - Apply a minimum final thickness of 1 gallon per 250 sq ft (23.23 sq/m).
Liquid Rubber RV Smart Cleaner - Approximately 200 sq.ft. (18 sq.m.) - 400 sq.ft. (37 sq.m.)per 1G (3.78L).
Liquid Rubber Seam Tape - 50 Linear feet of seam. Does not account for overlaps.
Liquid Rubber RV Lap Sealant - Approximately 22 linear feet (6.7m) at 5/16" (8mm) thickness per 10oz cartridge (Applying thicker will provide less linear feet. Typically 4 tubes for a 30 foot RV.)
---
Documents
For Step-By-Step Guides Specific to Your Project
1
Prepare Your Space and Gather Your Materials
Make sure your RV roof is completely dry and thoroughly clean, with any damages repaired. Use RV Smart Cleaner to clean the surface. TPO, fiberglass and aluminum should be scuffed to remove all shine. (TPO needs to be aggressively scuffed).
2
Detail Work
SEAM TAPE: Detail areas may include vents, skylights, etc. Precut Seam Tape to desired length and fit. Remove plastic backing before applying (be careful not to stretch the seam tape when removing the backing). Apply Seam Tape to all seams at perimeter and protrusions (vents, skylights, etc. Use pressure to activate adhesive leaving no wrinkles or fish-mouths. Overlap separate pieces of Seam Tape by at least 1 inch. Prime detail roof areas (not the Seam Tape) with the EPDM primer. When dry (tacky when cured), apply a heavy detail coat of RV Roof Coating over the Seam Tape to encapsulate (at least 1 inch beyond the edges of the Seam Tape). Allow to dry.
LAP SEALANT: As an alternative to Seam Tape, use Liquid Rubber RV Lap Sealant to bridge and seal gaps and seams. While Liquid Rubber Seam Tape provides a superior bond and performance, Liquid Rubber RV Lap Sealant will bridge and seal at an affordable price.
Tip From the Pros:
FOR BEST RESULTS REMOVE EXISTING PAINTS/COATINGS AND APPLY DIRECTLY TO THE SUBSTRATE.
3
Masking
Tape-off, block off or otherwise mask areas that are not to receive coating. Pull painters tape while coating is still wet.
4
Prime
Use EPDM primer for EPDM and TPO. Use Multi-Purpose Primer for most other roof types.
(For EPDM, fiberglass and TPO, wipe the surface with a white rag that has been dampened with acetone right before priming. For aluminum, if rusted, remove rust from areas before priming with 1-2 coats of Multi-Purpose Primer or a Rust Primer to prevent bleed through.)
Tip From the Pros:
Apply each coat in an alternate direction to the last coat to ensure even coverage.
5
Apply Coating
Work in manageable sections. Apply the EPDM Primer to one side of the RV (leaving the other side uncoated so that you can walk and work on it ) Allow the EPDM Primer to dry for 1-2 hours (EPDM primer is very sticky, coat over as soon as possible to reduce debris sticking to it). Apply the RV Roof Coating using a brush, (3/8) 10mm roller or airless paint sprayer over the EPDM Primer, leaving 4-6 inches of the primer exposed. This will ensure you can overlap it when you begin the second side. Allow the RV Roof Coating to dry enough to walk on and repeat the process for the second side. Apply as many coats of RV Roof Coating until you use up required amount. Allow approximately 6-8 hours between coats or until dry to the touch with nothing wet underneath. Apply each new coat at a right angle to the previous coat to ensure even thickness.
6
Inspect and Protect
Inspect for pinholes, blisters, voids, thin spots or other defects. Repair as necessary.
7
Clean Up
Remove tape while coating is still wet and close container to secure leftover product. If spillage occurs, soak up as much material as possible with rags. Clean immediately with soap and water. If spill is dried, scrape off as much as possible with a razor or scraper. Use mineral spirits to weaken product and an appropriate tool such as a wire brush or grinder to mechanically remove. If splashed on the skin immediately wash thoroughly with fresh water. If the product has dried on the skin massage the area with medical grade mineral oil, baby oil or edible oil, then wash with soap and water. If irritation persists seek medical attention.
NEED SOME HELP?
OUR TEAM OF EXPERTS ARE STANDING BY TO HELP MAKE SURE YOUR PROJECT IS A SUCCESS. CALL OR EMAIL US AT 1-855-592-1049 SUPPORT@SHOPLIQUIDRUBBER.COM
8
If your RV is still under warranty be sure to contact the manufacturer to ensure you do not void the warranty.
Great product!
Great product, all arrived on time. I wish I had ordered more tape. The kit includes one roll, I ordered a second but really should have trusted my gut and got 3. Now have to wait for the extra roll to arrive to finish the job.
RV Roof Coating Kit - 5 Gallon (18.9L)
Wish some instructions were included. Haven't been able to try it let.
Hey Jim, Full Application Guidelines can be found at the bottom of each project page, I will instruct our technical team to email you a copy for your reference.
Ups destroyed the first product but liquid rubber quickly sent a replacement and I'm very happy with it
RV Kit
Prep work is a must and is necessary. Once prep is done the product went on very nice. It was a very good improvement to my roof. I wish I would of done this sooner. A very good preventive maintenance.
Tips and Tricks
Learn how to prep and apply RV Roof Coating.
Download Supply Checklist
Before you start your project, make sure you have everything you need.
RV Roof Supply Checklist
RV Roof Coating Application Tips
Learn some application tips and how to apply RV Roof Coating.
Read Blog