NeoPond Sealant
Regular price
$99.95
Regular price
Unit price
per
NeoPond Sealant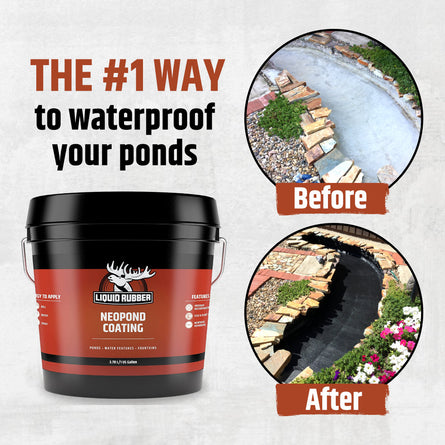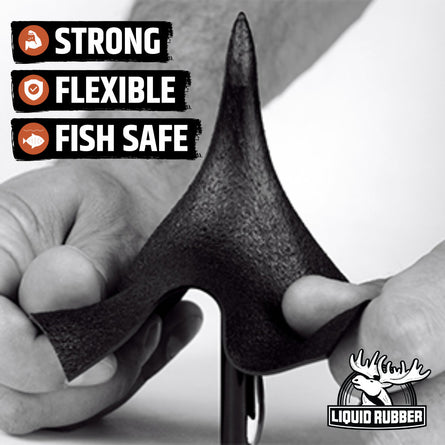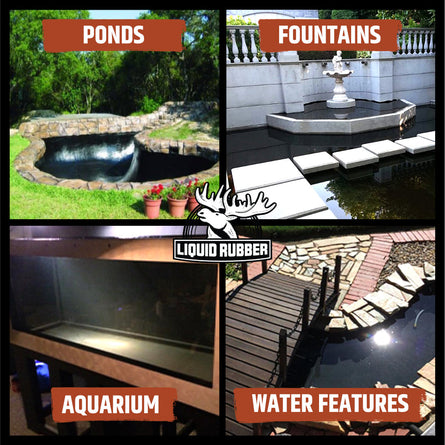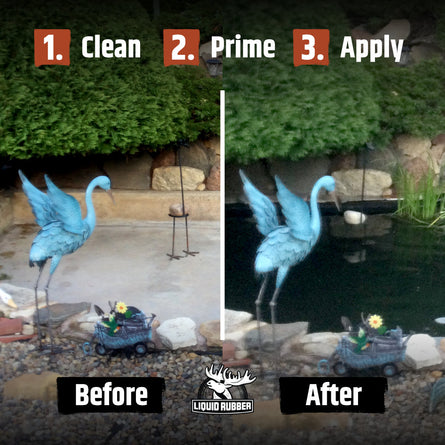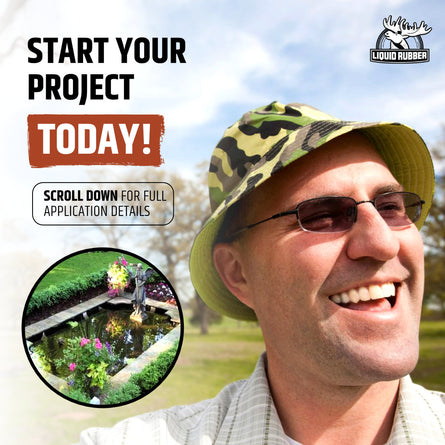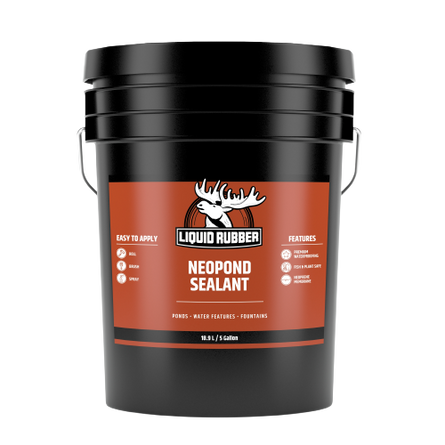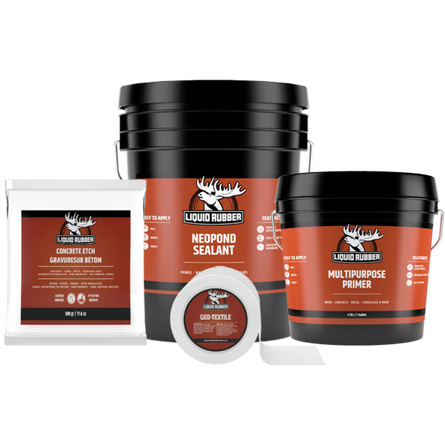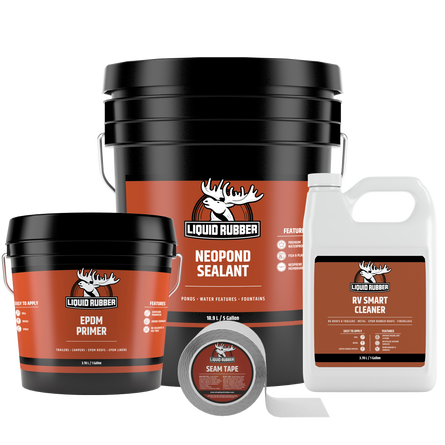 Product Details
Wood, EPDM and Concrete Pond Sealer
Liquid Rubber Neopond Sealant is a water-based sealant used for waterproofing areas submerged in water including fish and plant ponds. Contains no solvents, ultra-low VOCs, and provides uncompromising safety when it comes to your family, pets, and the environment.
You will not find a better concrete pond sealer (also for wood, EPDM and more).
Products that prove themselves
---
Popular Uses
Pond Sealant helps seal a variety of water features in your home. Here are some common Pond Sealant uses.
Ponds
Water Features
Fountains
Planter Boxes
---
Coverage
Apply minimum final thickness of 1 gallon per 40 sq ft (3.7 sq/m). It should require around 3-4 heavy coats to achieve a 30 mil. (0.75 mm) (DFT) membrane. 200 sq ft per 5G pail.
Not sure how much to order?
---
Documents
For Step-By-Step Guides Specific to Your Project
1
Prepare Your Space and Gather Your Materials
Make sure your surface is clean, dry and sound and gather all materials needed. Concrete should be at least 28 days old and should be etched with Liquid Rubber Concrete Etch prior to application. Fiberglass should be sanded well with 120 grit sandpaper to remove all gloss and roughen the surface. Wood surfaces should have imperfections such as screw holes, knots and splits prefilled with a water-based wood filler or our caulking.
2
Masking
Tape-off, block off or otherwise mask areas that are not to receive coating.
3
Detail Work
Bridge cracks, cold joints and transitions (floor to wall) using the 3-course method of Multi-Purpose Primer - 4" Geo-Textile - Multi-Purpose Primer. Apply a 6" wide coat of Multi-Purpose Primer along the areas and while still wet, embed the Geo-Textile fabric, fuzzy side down. Smooth out wrinkles and apply a second coat on top, taking care to fully saturate the Geo-textile. Allow to dry before application. For EPDM liners: Apply Seam Tape to any seams, tears or holes in the liner by peeling the backing film and pressing firmly to the repair area. Care should be taken to not allow wrinkles or bubbles in the Seam Tape. Once placed, press in the Seam Tape firmly with a laminate roller to ensure proper adhesion. Then apply EPDM Primer over the EPDM Liner (not the Seam Tape).
4
Prime
Using a 3/8'' (10mm) roller, apply Multi-Purpose Primer to the entire surface using a brush and roller at a coverage rate of approximately 175 to 200 ft²/gal. For EPDM liners: Use EPDM Primer. Allow the Primer to dry until it is tacky or dry to the touch, but do not leave it exposed for more than 6 hours before coating. Warning. EPDM Primer is extremely sticky. Be sure to work in manageable sections!
5
Apply Coating
Using a 3/8'' (10mm) roller, apply approximately 3-4 heavy coats NeoPond Sealant. Allow at least 4-6 hours drying time between coats. You can re-coat after the material is dry to the touch with nothing wet underneath and it is uniform in color. Apply each new coat at a different angle to the previous coat to ensure even coverage. For edges and corners apply using a nylon/polyester brush.
6
Inspect and Protect
Inspect for pinholes, blisters, thin spots or other defects. Recoat as necessary. Allow 3-5 days before filling your pond or using your fountain/water feature. When first filled wait 24 hours, wipe the sides, drain and re-fill to remove surfactants. Repeat if necessary. Do not add fish or plants until the coating is uniform in color and the water is clean. Be sure to test the water for proper PH levels acceptable for your type of fish and adjust as necessary.
Tip From the Pros:
BE SURE TO CYCLE THE WATER TO REMOVE SURFACTANTS AND TEST FOR PROPER PH LEVELS ACCEPTABLE FOR YOUR TYPE OF FISH AND ADJUST AS NECESSARY.
7
Clean Up
Remove tape while coating is still wet and close container to secure leftover product. If spillage occurs, soak up as much material as possible with rags. Clean immediately with soap and water. If spill is dried, scrape off as much as possible with a razor or scraper. Use mineral spirits to weaken product and an appropriate tool such as a wire brush or grinder to mechanically remove. If splashed on the skin immediately wash thoroughly with fresh water. If the product has dried on the skin massage the area with medical grade mineral oil, baby oil or edible oil, then wash with soap and water. If irritation persists seek medical attention.
NEED SOME HELP?
OUR TEAM OF EXPERTS ARE STANDING BY TO HELP MAKE SURE YOUR PROJECT IS A SUCCESS. CALL OR EMAIL US AT 1-855-592-1049 support@shopliquidrubber.com
Did not provide waterproof seal
Built a small fountain catch basin from polystyrene. Used the Seam Tape and NeoPond Sealant. Applied 4 thick coats, and allowed the rubber to cure. No gaps were visible. After allowing the product to cure, filled the basin with water, and left it to determine if there were any leaks. Half a day later, noticed water was receding, and moisture appearing below the base of the basin. Makes no sense if the rubber is truly waterproof. Will be following up to find out if we got a bad batch of Liquid Rubber, as there does not seem to be any other explanation. Product did go on easily, and low odor.
Hey Bill, be sure to overlap separate pieces of the seam tape. As well, you could also use our Geotextile Fabric embedded in the coating to repair any areas. If you reach out to our technical team they will be happy to trouble shoot issues and help you fix your project.
Bassin
Très bon produit , j'ai complètement étanchéisé mon bassin et il ne coule plus.
Merci beaucoup
Pond perfect
From seam tape to sealer it fixed my pond leak!
Awesome Product!
The instructions for applying it or a little confusing, but after putting eight coats of liquid rubber on my pond structure I'm happy to report that it's up and running and there is no leaks at all. I'm very happy! Joy!
Tips and Tricks
How to Seal a Pond
Learn how to prep and apply Neopond Sealant to prevent pond leaks.
Prep Your Space
Download Supply Checklist
Before you start your project, make sure you have everything you need.
Pond Sealing Supply Checklist
How to Fix a Leaking Pond
Learn how to fix a leaking pond using Neopond Sealant.
Read Blog